Picked her up tonight, finally, after all the annoyance and headache, I've found me my camper!
And God, is she beautiful! For 32 years old, she looks damned good! She's been stored inside a pole barn with a concrete floor for the last 15 years when her previous owner wasn't using her.
She's structurally sound and most of her appliances are still original, except for the cold water plumbing, water pump and the furnace, replaced by the previous owner.
Love the old 2 way fridges, no eletronics needing batteries, 12 volt or none, the fridge starts and runs with the process of opening the gas valve and striking a match at the burner. The stove/oven is made by Coleman, and I need to find a shop to tweak the burner controls, or find some instructions on it, a couple are sticky with age.
Total cost: $1500, paid in cash, paid in full.
For an 11 foot camper, she drops my 3/4 ton truck down 3" or so from her stock ride height with full water and fully loaded for a trip. The stock truck, aside from the occasional side to side rock, which is rare and not extreme in any fashion, rides like its not carrying it. At some point I may add an extra leaf to my overload pack, but for now, it'll work just fine.
Greatest features? The diversion valve built into it. You can run your grey water into her 45 gallon combined holding tank, or you can close the shutter and drain all gray water off into a tote or bucket for extended boondocking. We'll run out of fresh water as it stands before we can over fill that holding tank. This worked particularly good with the 5 gallon black paint bucket I have, it allowed me to also gauge how much water was being used. The average for a shower was about 2.5-3 gallons.
I need to go over to my buddies and either patch the existing tin in the propane compartment door, or just pull it out and put a new piece of some kind in. The original is a bit beat up, due to a brain **** moment with the last owner who I bought it from didn't quite get it latched down tight and it popped open and he went down the road a ways in the back country before finding out, door got a bit beat up.
And yes, I know there's no rear tie downs on it in the picture, at the time, the guys front chains were too short because his happijacs were higher up on his bed than mine, mine are down at the floor of my truck bed. Even without the rears on it stayed put. I've since been to the local Lowes and gotten the needed hardware to make certain its properly secured.
Now, for the interior, mind you I've done a fair amount of clean up work and repainting in the cabover, the last owner kinda did a haphazard paint job, since these pictures were taken, if I get around to it here, I'll take some updated ones.
A "real" Queen sized cabover. I can lay out my whole 6'4" self and still have room at either end of me and room along side for the lady. Mattress is the original, cover's about had it.
Nice big dinette, with plenty of room for people to sit. Roughly a 6' long bed, even my 6'4" 330lb self can sleep comfortably in it. That big steel railing is for the giant fold out cabinet bed. It actually folds out just as wide as the dinette below it, lots of room for the wee one to sleep up there!
Doors open, lots of Light coming in. Thank god the last owner made foam board cutouts for all the windows for winter camping, I took the ones for the front cab over window, painted the exterior side white and stuck them in and left them, it does wonders for the interior temperature.
Plenty of counter space on both sides of the aisle.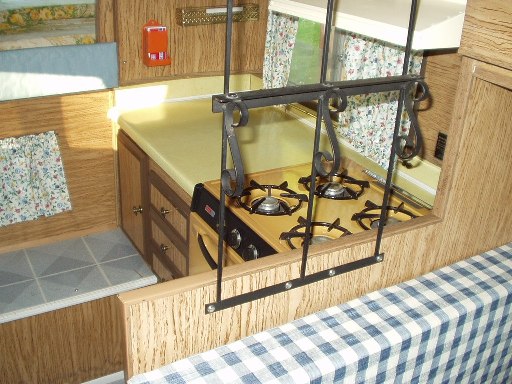 Got privacy? Love those sliding doors, makes a nice cubby for me and the misses to be.
I like the bathroom, its a one piece fiberglass unit. Toilet's seal at the floor was replaced about 5 years ago when it finally started leaking, before I bought it. No leaks now and holds water in the bowl just fine.
G.E. Brand 2-way fridge. "Flint" striker for lighting. Clean, no cracks in the plastic and doesn't smell of mildew like so many old campers out there.
Who knows what this is? Its a propane lantern, still works. The old owner loved it because it warmed the camper up. Me? I'm going to cap its hook up at the main gas line and take it off the wall and save it, its rare.
If ya look right below it there's two switches. Silver one is the Battery/Converter toggle. The converter is the original and is not designed to charge the camper battery, its just designed to provide onboard power when plugged in.
Ah, the wonders of the past decades, I forget what they called that color, but it was popular on appliances back then.
If you look closely you can see the Coleman brand name and trademark Lantern. Kinda weird to think that once upon a time, Coleman even made RV parts, now they really don't make anything, its all made in China and their name is stuck on it.
She's a solid girl, though dear God, the previous owner must have forgotten what regular cleaning was, I went through 4 buckets of Pinesol/Tide mixtures just cleaning the cabinets and ceiling. I thank the Lord for Easy-Off, the oven was in good shape but had never been cleaned from the look of it.
Still got the inside of the cab over to repaint (Last owner did a kind of haphazard job, wood paneling is still showing through in a number of spots), the bathroom to sanitize and the kitchen sink and counters to wash, and I still need to make a trip to the laundromat to run the dinette covers through a tumble washer.
But, on the plus side, she's looking and smelling great now!