Well, I was going through all of my old forum posts I've made over the years, including a number of the replies, when I came across and old tidbit written by
seldomseensmith
back in 2007 when he was doing a tour of some of the more remote areas of Arizona.
Any Redneck should make this place a MUST stop on their tour through the area :)
---
Originally by Seldomseensmith
I take no credit for these pictures or the story within, simply reposting so that it will not be lost to time and internet archives.

---
O.K., here's a little story….
It really is about truck campers, but it is also a travelogue, so please bear with me. The outfit I work for is planning a new Jeep tour, and last week we took a trip to scope out the route. It basically travels along the old Overland Trail from Williams, Arizona to Jerome, a really interesting (cool, neat, fun) old mining town clinging to the slopes of Mingus Mountain in the north central part of the state. It is very close to the red rock areas of Sedona, and offers sweeping, panoramic views of the Verde Valley. Anyway, I took lots of pictures along the way, which you can see
here
if you are interested.
Jerome was a mining town of the boom and bust variety, with copper ore being the largest mineral body, along with significant quantities of gold and silver. The United Verde mine closed for good in 1953, and the population (over 12,000 during the glory years) eventually dwindled to about 50. Thanks in part to artists and other folks seeking alternative lifestyles in the 70's and 80's, Jerome has undergone a resurgence of sorts, and today is alive and well, thanks to the many visitors who come to visit shops and galleries located in the historic district. Anyone visiting Arizona wanting to see a classic western mining town should definitely plan on stopping in.
Now our destination was a quick stop in Jerome, but more importantly we went to see the old Gold King Mine, which defies easy descriptions. Located at the site of a played out gold mine, the proprietor, a fellow named Don, has amassed a collection of old machinery, cars, trucks, heck you name it. We spent about an hour wandering through the property, and I can tell you it would have been just as easy to stay for the day. There is no rhyme or reason to what he has, although it seems he likes old Dodge trucks, heavy equipment, and machinery built to last. I won't even try to describe the man himself – better if you just visit and get to know him in person.
Anyway, I promised this post would be about truck campers (or something like a truck camper), and at the mine I came across these interesting specimens:
I guess this is a class C, although I never heard of using a VW bus as the chassis
This truck camper is a DRW, almost a hybrid class C, but I never saw one with a sliding glass door!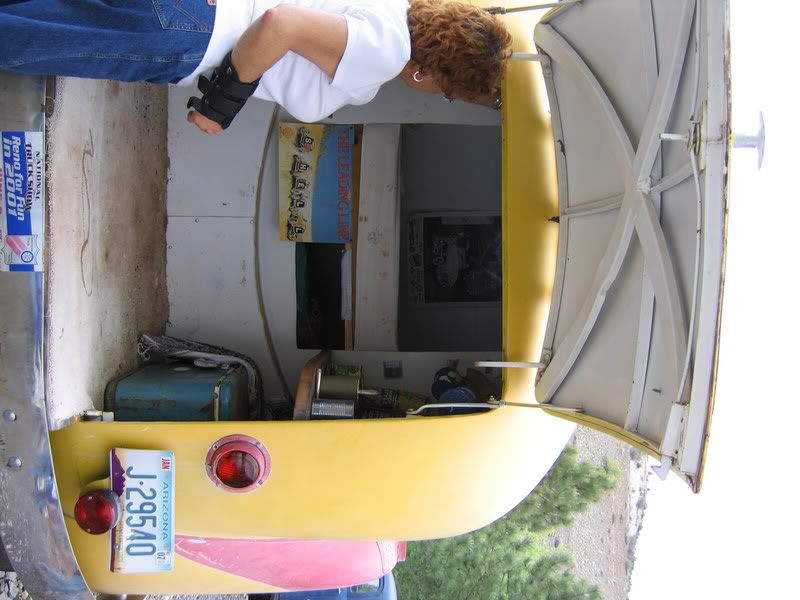 This fuel tanker truck is really interesting, and what qualifies it for the TC forum is the unique sleeper compartment located in the rear – No smoking in bed, please!
So, the bottom line is next time you visit Arizona, make plans to spend some time poking around the scenic areas of Sedona and Jerome. You'll be glad you did!